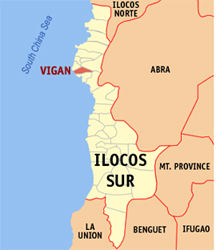 A good time to visit Vigan is during the town fiesta. Celebrated for one whole week -concluding on January 25 to commemorate the conversion of the apostle, St. Paul. The fiesta is marked by street parades, beauty contest and variety shows on the town plaza.
During the Holy Week, local and foreign tourist come to Vigan to see the religious processions of the antique and life sized statues mounted on elaborately designed carrozas that are paraded on the streets of Vigan.








Places of Interest:
Old Vigan Colonial Houses – the ancestral houses were built mostly by rich Chinese traders. These great big houses are made of thick brick walls and plastering with red clay. Tile roofs are made to survive earthquakes. The Mestizo district where more than a hundred houses line side by side along Calle Crisologo.

St. Paul's Metropolitan Cathedral (admission free) was built by Augustinians around 1790 and features a unique design intended to minimize earthquake damage; a style that came to be known as "earthquake baroque". Its brass communion handrails forged in China. The 12 altars and 3 naives enhance the church beauty and grandeur. Its octagonal bell tower is located 10 meters south of the cathedral.

Plaza Salcedo west of the cathedral features a 17th Century monument to Juan de Salcedo, and was also the site of resistance leader Gabriela Silang's public hanging in 1763.

Palacio de Arzobispado – built in 1783, it is the official residence of the Archbishop of Nueva Segovia. The palace was the headquarters of Gen. Emilio Aguinaldo. Included in the palace is the Museo Nueva Segovia with a collection of paintings, manuscripts and religious articles accumulated through the centuries.

Burgos National Museum. - the museum building is the ancestral house of Padre Jose Burgos. One of the museum's best feature are the paintings of Esteban Villanueva depicting the 1807 Basi Revolt. The dioramas of local historical events is worth the visit. Included in the collections are antiques, manuscripts and other priceless items.
The City of Vigan is a 5th class city in the province of Ilocos Sur, Philippines. It is the capital city of Ilocos Sur. The city, located on the western coast of the large island of Luzon, facing the South China Sea.
It is a World Heritage Site in that it is the most intact example of a Spanish colonial town in the Philippines, and is well-known for its cobblestone streets and a unique architecture that fuses Philippine building design and construction with European colonial architecture and planning.
History
In pre-colonial times, Vigan was an important trading post for Chinese junks, trading gold beeswax and other products from the central Cordilleras for exotic Asian goods. Many Chinese traders settled in the mestizo district, marrying locals and starting new bloodlines.
Vigan was captured and settled by the Spanish in 1572, and grew to become a centre of Spanish political and religious power in the north of Luzon. In 1758 Vigan became the Seat of the Diocese of Nueva Segovia.
Interestingly the town was also a hotbed of anti-Spanish politics. Diego Silang was perhaps the most notable resistance leader, but was assassinated by his friends (on commission from the Spanish) in May 1763. Undeterred, Silang's wife, Maria Josefa Gabriela Silang, assumed leadership of the uprising but was later captured by the Spanish and publicly hanged in on September 20, 1763.
Etymology
Local legend has it that Vigan got its name from a simple communication breakdown. A Spaniard walking along the Metizo River apparently met a local and asked which the city's name. Not understanding what he was being asked, but seeing that the Spaniard seemed to be pointing to a tree, replied "Bigaa Apo" (a giant Taro plant that was common in the area). It is from the word "Bigaa" that Vigan is said to have derived its name.
Things to Do:
Ride a calesa, a horse-drawn carriage, around Vigan and the surrounding towns. You could hire a private calesa for around 150php per hour.
Take a swim at the nearby Mindoro Beach Resort.
Visit Baluarte, the governor's fortress. It also features a mini zoo with exotic animals and you can get a free ride with the small horses.
Try your hand at pottery. Vigan's Pagburnayan makes burnay jars which are made of sand and fire-blasted in a century-old dragon kiln.
Witness old women weave abel at Camangaan.
Visit St. Augustine Church in Bantay and climb up its belfry to get a breath-taking view of the town.
Shopping: There are dozens of antique and souvenir shops dotted about the city, particularly on Crisologo and Plaridel Streets in the mestizo district. They have quality wood furniture and home accessories.
Eat: Nobody should visit Vigan and not taste their empanada. It is a different concoction from the flour-based empanada that one usually knows.One should have a try of the Vigan longganisa which is spicy unlike its Pampanga counterpart which is sweetish. There is also a delicacy called tinubong that's sold in bamboo tubes, and you have to break the bamboo to eat the sticky sweet rice inside. They are usually sold in the Heritage Village.
Popular snack stands along Plaza Burgos serve up a variety of local treats such as sinanglao, arroz caldo, miki, empanada and okoy. There is also a string of fast-food outlets nearby.
To go there
B
y bus or car:
It's seven hours drive along the scenic Ilocos Highway from Manila to Vigan. Partas Bus Co., Dominion and the Philippine Rabbit Bus Line have regular buses along this route.
By plane: The nearest airport is in nearby Laoag (1.5 hours by car), the Laoag International Airport. Philippine Airlines flies to from Laoag everyday of the week from Manila. Cebu Airlines flies three times a week from Manila.